PHONIC UNLEASHES CELEUS MULTIMEDIA MIXERS (3)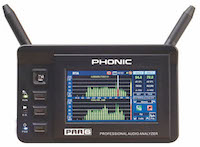 Reimagining the Phonic line of analog mixers was no easy feat. "We had to come up with an original angle," says Phonic Product Marketing Specialist, Grant Murray. "The new design incorporates slick curves and a color scheme that screams 'Phonic.' But appearance aside, the new features incorporated into the mixers make them invaluable to any live setup."
Celeus 100, Celeus 200 and Celeus 400 mixers were re-designed from top to bottom. The all-new molded enclosure is matched with stylish new pots and color scheme. Phonic engineers also incorporated 41-segment level meters and 7-band graphic equalizers to further enhance the already feature-heavy series.
Larger-scale Celeus models – the Celeus 600, Celeus 800 and Celeus 1000 – all feature Phonic's new smartphone/tablet stand, allowing such devices to sit comfortably at the head of the mixer to ensure quick and immediate access to multi-media content.
Finally, all Celeus models feature Bluetooth connectivity and USB recording and playback for easy integration of digital media. "There are so many ways to access our multimedia now," Grant Murray comments, "So offering the two most commonly used multimedia interfaces was a no-brainer." He finishes, "The Celeus series is all about integrating your live music and multimedia experiences."
Celeus Multimedia Mixers will be available as of next month. Check your local Phonic dealer for more information. Like us on facebook for up-to-the-minute updates on this and many other Phonic products.