PAA6 UPDATED! NEW FIRMWARE, NEW FEATURE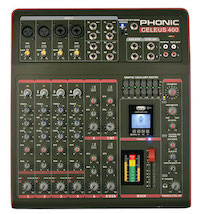 This new firmware update has been in the pipe-line for quite some time, and now – with the imminent release of the new PAA3X and other hush-hush analyzer projects in the works – just seemed like the right time to unleash it.
"It's easy to lose sight of just how much of an impact the Phonic PAA series had on the world," said Phonic Product Marketing Specialist, Grant Murray. "These products changed the way engineers do their jobs by providing an easy, portable way to take measurements while walking around." He added, "There's no complicated setup or messing around with menus; they're small, portable and powerful."
As of this moment, the PAA6 has the ability to capture the screen and save this as a BMP image file on your SD card. This can be later transferred to your computer or recalled on the PAA6 itself. The capture function is accomplished by simply clicking the new "camera" icon at the top of the screen. In addition to this, users can tap the PAA6's power button at any time to capture the screen.
A firmware update is, of course, required to use this new function. The firmware update is incredibly simple: Place the update file on a formatted SD-HC card and insert the card into the PAA6. Find the Update function within the Setup menu and presto. Phonic recommends connecting the PAA6 to the power adapter when installing the firmware.
Stay tuned for much more news on Phonic's series of professional audio analyzers in the coming months! For up-to-the-minute updates on this and many other great Phonic products, keep an eye on www.phonic.com or like us on facebook.